Excerpt:
Above Us Only Sky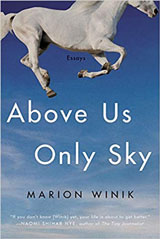 This is the opening of the title essay, "Above Us Only Sky," a long piece that I sometimes refer to as a "memoirella" (like a novella, only true.) It's the centerpiece of the book, which includes 35 essays.
In the spring of 1981, when I was twenty-two years old, I fell in love with a girl named Anne and a boy named Mark. She was my good friend, he was her boyfriend, and they hardly needed me to complicate their delicate situation, but they got me anyway.

For about twenty years, I avoided thinking about this episode, and when I finally did, and decided to write about it, big chunks of the story seemed to be missing. Like a Mayan ruin, it had to be reconstructed from what was still lying around. I went back and checked my calendar from that year, a lemon-yellow book filled with lists and appointments, plans to see Joe Ely and Grace Jones, names of forgotten movies.

On Saturday, January 17th, an entry says Dinner with Anne/ Nodotties, and Nodotties is scrawled on many Saturdays following. Across a week in April are the ingredients for Anne's black-bean recipe, set down in her elongated, slightly whimsical printing: Black beans, basil, garlic, oregano, onion, comino, Pace's, mustard, molasses.

There are a few hexagrams from the I Ching copied in as well, sometimes accompanied by lines of advice, resplendent in its ancient impracticality. The superior man is yellow and moderate. Thus he makes his influence felt in the outer world through reason. But the violent disruptions of that May get no Chinese Deep Thoughts, just two words: Leave Austin.


When I was about halfway through my attempt to write a novel based on our shared past, I whisked off a letter to Anne, my first communication with her in many years. I told her about my project. I wanted her to be the first reader.

It seems she was surprised to hear from me. Marion, she wrote back a week later, on a piece of hemp-colored stationery in her famous handwriting, I kinda liked you when I met you, and then I learned to love you, but now you're just the skank that fucked my man when I was struggling to make a family.

If there were a museum of angry correspondence, this letter would deserve a special exhibit. I was shaky for days from the emotional sucker-punch, alternating avoiding the sheet of paper as if it were growling at me, then grabbing it to make sure it still said what it had before. I sent her a reply saying how floored I was, how I didn't think we had left things this way. She confirmed that we had; I replied by return mail.

Yesterday I received your third letter, she wrote back. I felt like Tommy in Goodfellas: I thought I told you to go fuck your mother. But I knew she wouldn't keep answering me if she didn't want to reconnect. I was right – in her next letter, she sent me some of her journal entries from that time, then agreed to see me on a trip up north.

That afternoon in Baltimore as we pushed my daughter around in her stroller, talking about who we are now and who we were then, I was chagrined to realize how many of my recollections had been distorted and self-serving. I had things mixed up in such a way that all of my bad ideas and actions were less bad, and less mine. I had told myself, and had come to believe, that I was just a bystander swept up in the action, Woman #2, Townsperson in a Red Dress.

Well, Anne pointed out, it's true you were swept up.

Swept up like a person who runs into the yard as the funnel cloud approaches, arms spread wide.
Excerpted from Above Us Only Sky, Essays by Marion Winik (Seal Press, 2005). Reprinted with permission of the author.