Highs in the Low Fifties

Globe Pequot Press, 2013

Visit your local bookstore:
IndieBound

or purchase online:
Amazon
Powells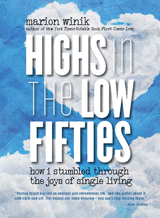 #1 Kindle Bestseller
A cross between Nora Ephron and David Sedaris, longtime NPR commentator Marion Winik has a way of looking at life that's both relatable and remarkable. Following her beloved memoir First Comes Love and the award-winning The Lunch-Box Chronicles, her chronicle of being single in middle age will leave readers shocked, awed, and laughing out loud.

Brimming with humor, Highs in the Low Fifties (Globe Pequot Press, June 2013) follows Winik's attempt to rebuild her world as a once-widowed, once-divorced single mom. With her signature optimism, resilience, and poor judgment, Winik dives into a series of romantic experiences. Some are pathetic, some are sweet, and some are simply incredible. She gets propositioned (for money) by a sexy Salvadoran doing construction work on her basement, meets an emotionally unavailable dreamboat on Craigslist, and makes out with a former student. The adventure culminates not with a honeymoon but with a two-week stay in Johns Hopkins Hospital. But even her treatment for hepatitis C is kind of a funny story.

Winik's brand of single living is never lonely, never dull, and always a satisfying read. Her candor about her own mistakes and ability to find humor in the darkest moments has won her thousands of followers – and maybe a few voyeurs.
Watch the trailer on YouTube.
Marion Winik on Memoir Writing on Vimeo.