Excerpt:
The Big Book
of the Dead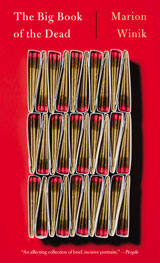 From the introduction
Many readers of two previous books, The Glen Rock Book of the Dead and The Baltimore Book of the Dead, got the impression they were reading a fragmented memoir, a life told in terms of the people lost from it. The two were essentially the same story twice, ending in different places, with different supporting casts. The book you are holding in your hands is the one big story they were meant to be. Here are all the pieces from Glen Rock and Baltimore, plus a dozen new ones, making a total of 125. They appear in four sections, defined by both chronology and geography.

One of the new pieces
Ringo
died 2018
My grandmother had a charm bracelet with eleven gold hearts, each engraved with a name and set with a birthstone. It was a memory game to go through and say the cousins in order: Patsy Andy Ricky Marion David Michael Nancy Lauren Gregg Julie Peter. Five in New Jersey, two in California, four in Indiana. All my grandmother's children had gone to the state university in Bloomington, Indiana; her daughter had married a local boy and stayed.

Every summer the cousins came and rented rooms near the beach, near our grandparents, where my family lived year-round. Last night on the phone, the oldest Indiana cousin, now in Boca Raton, recalled how crazy we seemed. She and her siblings loved the Beatles, in fact, they were the Beatles: she Paul, her brothers George and John, her little sister, who was even littler and blonder than mine, and very shy, of course had to be Ringo. When we came to your house, she says, all the grownups would be drinking and smoking. And you guys liked The Who.

That was the beginning of the split, I guess, because I am talking to my cousin for the first time this century, although one of her brothers died when we were in our twenties, and I'm finally calling now because her sister is gone. Didn't she have multiple sclerosis? I ask. Yes, says my cousin, and anorexia as bad or worse, and then she's hit by an eighteen-wheeler while riding in a car with her boyfriend one afternoon.

My cousin, frank and Midwestern as ever despite decades in Florida, tells me about the woman whose life I missed. She loved nature and cooking, she was strong and quiet, she was always on her iPad, maybe to escape conversation. Her husband had died, her daughters were in New York and Dallas—but they came often. She will be a grandmother soon! So sad she never knew. Her boyfriend, the one who was driving—she met him five years ago, he was the love of her life. She sort of disappeared into that relationship, and now? Well. This has been so hard for my parents, worse than Andy, even. You remember how they are. They drive each other nuts. Haven't changed a bit.

My cousin has a friend in Baltimore and comes here every summer, she tells me. I can hardly believe it. It will be just like old times.
Excerpted from The Big Book of the Dead, Marion Winik (Counterpoint, 2019). Reprinted with permission of the author.